Danny Ferretti
Kendra Sunderland Gets Down to Business
Ever since Kendra Sunderland attained "library girl" viral notoriety for doing a topless cam show in the Oregon State University campus library, she has ambitiously navigated an ascendant adult industry career that kicked into high gear in 2016 after her studio debut via Vixen's "Natural Beauties."
Winning an award for that scene, landing a sex toy deal and notching several Vixen accolades only further emboldened her.
"It made me feel like I had made a good decision getting into porn and that I was born to do this," she shared. "Getting my own Fleshlight was such an honor because I always felt like the top porn stars had those. For me to get one was a very surreal experience that I'll always be proud about.
"Becoming a Vixen Angel and Vixen Angel of the Year was very special to me because I was the very first one for both," Sunderland added.
With numerous shoots for Vixen Media Group's various brands in the ensuing years, as well establishing a fiery presence on platforms like OnlyFans with a bevy of independently-produced scenes, Sunderland also expanded into an official website of her own, complete with merchandise and more, courtesy of GFE Model Services and Fangear.vip founder Danny Ferretti.
She then landed a Brazzers contract and focused heavily on her own creative works, becoming a mega brand in the biz and solidifying her entrepreneurial ambitions with multifaceted finesse.
Now, she reflects on the successes she has attained and lays out her goals for the coming year, in this exclusive interview.
XBIZ: What led you to sign with Brazzers and what's it been like shooting for the studio and associated projects this past year?
SUNDERLAND: I chose to sign with Brazzers because I admire their style of work and because I felt that they could level up my career. They have been super amazing to me and they've allowed me to really be myself in scenes. I'll never forget my shoot with Holly Randall for my Twistys Treat of the Month. It was an amazing day on set and something completely different than anything I've ever done before.
XBIZ: Talk about your official site, KendraSunderlandVIP.com. How did you approach designing it and monetizing your content there?
SUNDERLAND: When I decided to do my website, I knew that I wanted it to be a place where my fans could get everything they've ever wanted from me in one place.
I wanted it to have four separate components: a membership base where members can automatically see my video updates when they release, a clip-store-style part where fans can buy one or two videos for a one-time fee, a place to buy used items that I've worn in scenes and a section to sell merchandise that I've created.
One of my photographers suggested I talk to Danny Ferretti and after I did, I knew he was the right person to make all of this happen. I told him to make it as pink as possible, and he exceeded my expectations. He's never let me down over the past five years!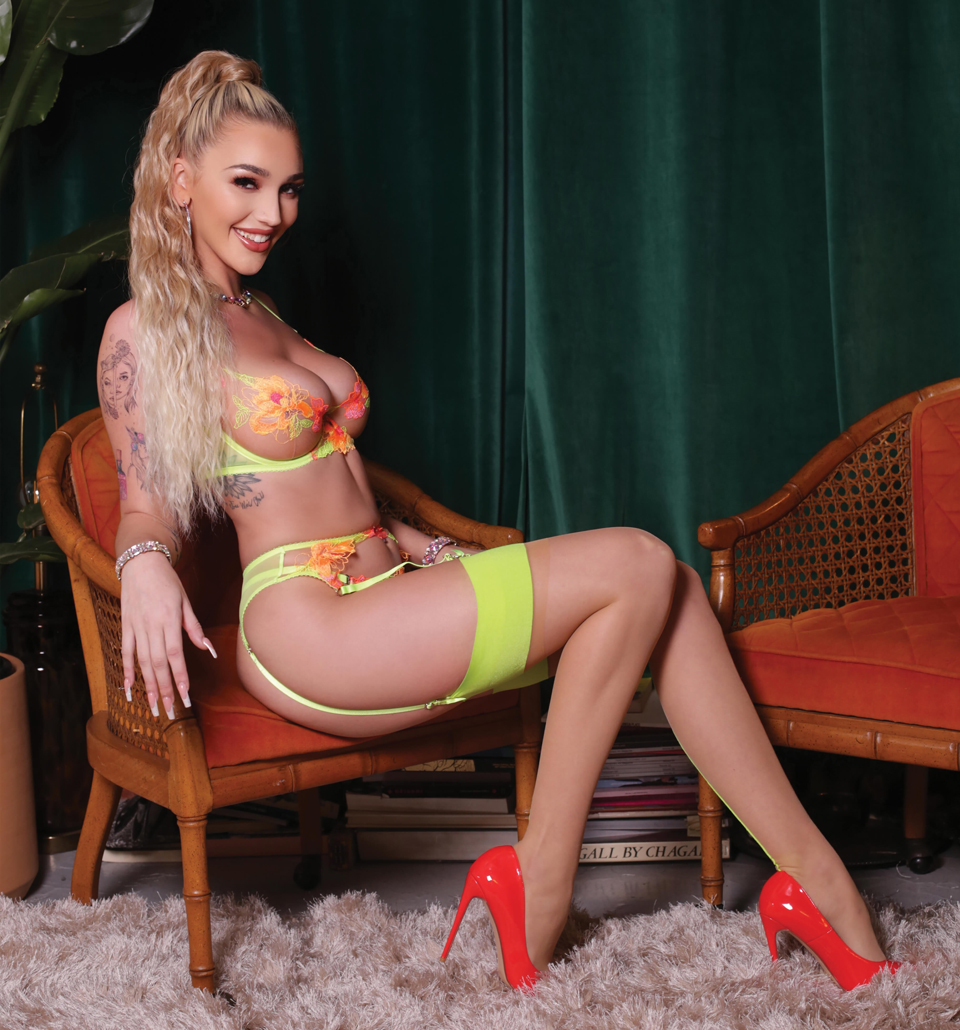 XBIZ: What other revenue streams do you pursue, such as selling collectibles and merch?
SUNDERLAND: First of all, since I am contracted to Brazzers, I am always shooting for their many sites. I also create, produce and edit my scenes for my own website, KendraSunderlandVIP.com.
Every Tuesday, I do a live show on my OnlyFans for "Titty Tuesday" and I'm always chatting with my fans there. I have my Fleshlight toy and of course, I do projects like my yearly calendar and my magazine.
That doesn't even cover the branded merch I have on Fangear.vip; that's like a whole other revenue stream. I think we have 25 products now? Maybe more...
XBIZ: Discuss your strategy for creating, promoting and generating sales with your various Fangear.vip items.
SUNDERLAND: Danny Ferretti and I are always talking about new product ideas, and my strategy is to do photoshoots with my products so that I can promote them more regularly on social media. I also plan on doing giveaways to get the fans excited about the products. We also do lots of deals and bundles, meaning you can purchase multiple items and save money on them by buying them together.
XBIZ: Describe the "Kendra Sunderland" brand, as far as your personality, fashion and the visual style of your content.
SUNDERLAND: I would say my style of shooting is very creative and is always centered around a theme. Sometimes I come up with a plot in my head and sometimes it's holiday-themed. My personal style is very "real-life Barbie," but I can also be a goth princess at the same time. My brand is about doing what you want, not giving a fuck and not following authority.
XBIZ: From subscriptions to video-on-demand purchases in DMs or from your feed, etc., what OnlyFans features and types of content are most profitable for you?
SUNDERLAND: The most profitable feature on my OnlyFans is my custom videos. My fans go crazy over personalized videos just for them. They also love talking to me one-on-one and getting the "Kendra Sunderland" experience. Nothing makes me happier than making my fans happy.
XBIZ: Which other performers are you close with? Who inspires and uplifts you?
SUNDERLAND: I am close with Carmen Caliente, Gina Valentina, Damon Dice and Ricky Johnson. They're always uplifting me and reminding me that I can do anything I want to and not to second-guess my creative ideas. Someone else who really inspires me that I've had the pleasure of working with before is Angela White. I think she's a really amazing businesswoman and has created such a strong brand for herself.
XBIZ: How do you handle social media marketing, given your high following, to ensure fans are engaged?
SUNDERLAND: I haven't been the best with that in the past, but this new year I plan to do more shoots so I have content to post and promote more frequently. Sometimes I also tweet the most random things that pop into my head and my fans think that I'm hilarious. I receive the most love on Twitter and that's one platform that has always allowed me to be myself. Like I said before, my goal is to be more engaged with my fans, especially on Twitter because I'm least censored there.
XBIZ: What ambitions are you hoping to realize this coming year?
SUNDERLAND: This year I hope to take my brand to the next level. I want to redesign my website to my more current vibe. I want to continue creating projects that make me happy and inspired. I want to take the money I'm making and turn it into long-term investments and become a real businesswoman. Also, I want to just be happy and stay positive regardless of what life throws at me.